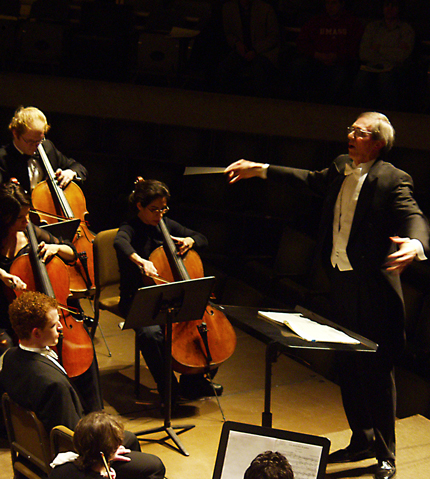 Professor Emeritus of Music and former Director of Choral Activities at the University of Massachusetts Amherst, Dr. Abercrombie retired in May 2007 after 33 years in the Department of Music. He succeeded Alan Harler as Director of the Madrigal Singers in 1974, founded the University Chamber Choir in 1978, and became Director of the University Chorale in 2000.
Dr. Abercrombie is a noted conductor, clinician and workshop facilitator, with extensive experience working with singers and students at all levels. Since his retirement he has helped found a new Children's Chorus of Springfield (he is presently the Artistic Director), and helped establish the International Federation of Choral Music's new program Conductors Without Borders.
Since leaving UMass, he has also continued to teach and conduct at the collegiate level. He has been guest conductor or lecturer at Amherst College, Boston University, Northeastern, University, University of Massachusetts Amherst, Worcester Polytechnic Institute (and was made an Honorary Member of the Men's Glee Club), and Western New England University.
He continues to research new approaches in teaching and learning conducting, and was an observer at the Eric Ericson Masterclass 2011 in Haarlem, The Netherlands.
He presented an interest session, "Heart, Head and Hands II:Self-Renewing Skills for Conductors/Ensemble Leaders" at the Eastern Division Conference of the American Choral Directors Association (February 18, 2012).